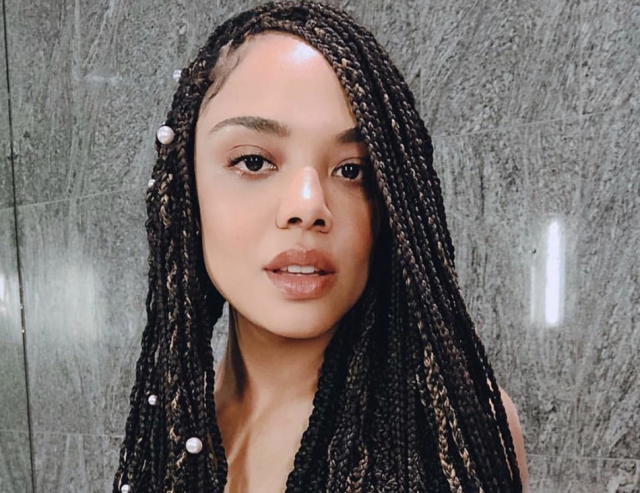 Read Time:
4 Minute, 38 Second
The fact that box braids are there
Let's talk braids first before we get into peekaboo braids. Braids have been a way for black people to style their hair for thousands of years. In the past, they were used to show a person's status, religion, or ethnicity. Even now, braids are still a very popular hairstyle among black people. From being worn as a protective hairstyle to get through the harsh winter months to being chosen as a way to be creative and show who you are as an individual. Box braids have been a popular hairstyle for a long time.
Braids that make you stand out
Even though braids in the past were very different from braids today, one could say that braids today aren't as exciting as they used to be. As a way of playing it safe, many braided hairstyles today stick to one colour. But the summer of 2022 is all about taking chances and standing out.
From the blonde streaks that were popular on social media in 2019 to Love Island 2022 contestant Indiyah's two eye-catching blonde streaks on the side of her hair, adding a For a while, adding a bold and contrasting colour to a section of hair has been the new trend.
How do peekaboo braids work?
On the other hand, peekaboo braids are the newest style for people who wear braids. Like the blonde streak hair trend, peekaboo braids are box braids where a section of the hair is braided with bright-colored extensions while the rest of the hair stays the same colour.
The word "peekaboo" is used to describe the hairstyle because braids with bright colours peek out from the rest of the hair. This often gives the hairstyle a subtle and unique touch. Even though many black women may remember doing something similar to this with their hair when they were younger, we just gave it a name because it has become very popular this year.
Why should you start wearing peekaboo braids instead?
As was already said, peekaboo braids are a great way to stand out. Instead of doing the same old box braids or the newer knotless braids, why not add a splash of colour? Peek-a-boo braids are a great way to add your own style to your look. By choosing a bold colour that shows who you are, peekaboo braids make you stand out because people start to associate that style with you because it is so unique.
Peekaboo braids in summer 2022
Since it's already summer, why not add this style to your list of ways to wear your box braids in summer 2022? During the festival and holiday season, when it's hot and humid, peekaboo braids are a great way to protect your hair. They can also save you time in your daily routine while making you look put together and stylish.
How long do you think peekaboo braids will be around?
The great thing about this hairstyle is that it has been popular in the black community for years, even though it is becoming more popular now. This means that it is unlikely to go out of style any time soon. Still, if you think this hairstyle is right for you, it will always be in style. Do what you want to rock!
What do some peekaboo braids look like?
You can style your peekaboo braids in many different ways to get the look you want. You can do whatever you want, like have a different colour on the back of your head than on the edges.
Peekaboo braids let you try new things and show off your own tastes. With that in mind, here are some of the most common ways to wear peekaboo braids. Don't forget that this isn't a complete list, so feel free to change it to fit your style.
There are 6 ways to style peekaboo hair.
Peekaboo braids with beads
Adding beads to the end of your peek-a-boo hair is one way to style it. Add a little something extra to your hairstyle by adding some beads.
Subtle pink peekaboo braids
You can also go for a subtle peekaboo look if you want to keep things simple. This can be done with just a few braids that are a different colour. This will basically be the peekaboo effect, since only a few of the braids will be a different colour. This is the same picture as the one above, but without the beads.
Streak peekaboo braids
There are also streak peekaboo braids, which are a lot like the subtle peekaboo braids. This style of peekaboo braids also looks simple, but a small section of hair that is a different colour makes it stand out more. This choice gives peekaboo braids a cleaner look.
Peekaboo braids in many colours
If you think adding one colour is too simple, you could make the peekaboo hair more interesting by adding more than one colour.
Peekaboo cornrow braids
You can have peekaboo braids, or you can make them look like cornrows.
Curly braids that peek out
Blonde braids with a peek-a-boo look are now a classic. But if you want to be a little more noticeable, curling the end of your hair might do the trick.
I hope that this post gave you some helpful information about peekaboo braids and that you're now more interested and ready to get them.
Find and book Afro hairdressers near you at FroHub to learn more about peekaboo braids and other styles.