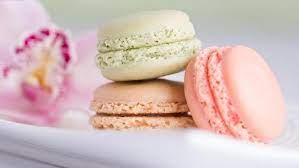 Read Time:
3 Minute, 42 Second
If you are a fan of sweet treats, you have probably heard of both petifores and macarons. These two bite-sized desserts are often confused with each other due to their petite sizes and delicate textures. But what exactly is the difference between them? And which one should you choose if you want to satisfy your sweet tooth? In this article, we will explore the origins, ingredients, flavors, and textures of these two delicacies and compare their pros and cons. We will also give you some tips on how to make them at home and how to enjoy them with your friends and family.
What is a Petit Four?
Let's start with petifores. A petit four (pronounced peh-tee foor) is a small French dessert that literally means "small oven". It was originally created in the 18th century as a way for bakers to use up leftover cake scraps by transforming them into bite-sized confections that could be served at fancy tea parties or weddings.
A traditional petit four consists of three layers: a sponge cake base, buttercream filling or jam, and fondant icing on top. They can be decorated in various ways such as dragees (sugar-coated almonds), marzipan fruits or flowers, chocolate curls or ganache rosettes.
How to Make Petit Fours
Bake any flavor sponge cake recipe in a sheet pan until it's cooked through but not browned on top.
Cut out circles or squares using cookie cutters or pastry rings. Fill each piece with buttercream frosting.
Dip each petit four into melted fondant icing and let them dry on a wire rack.
Decorate with dragees, marzipan fruits or flowers, chocolate curls or ganache rosettes.
What is a Macaron?
A macaron (pronounced ma-cah-ron) is also a French dessert that has been gaining popularity around the world in recent years. It consists of two small almond flour-based cookies with a filling sandwiched between them. The cookies are usually colored and flavored differently to indicate the type of filling inside.
The most common flavors you might find are vanilla, chocolate, pistachio, raspberry and lemon. But many patisseries have created their own unique flavors like lavender-honey, matcha-tea or rose-lychee.
How to Make Macarons
Sift together almond flour and powdered sugar until fine. Beat egg whites until foamy then add caster sugar gradually while still whisking.
Add any coloring gel you want for different colors and flavorings if desired then fold in the dry ingredients mixture gently until combined but not overmixed. Pipe 1-inch circles on parchment-lined baking sheets.
Tips:
Use aged egg whites which will make your meringue more stable.
Tap each sheet several times against counter top to release air bubbles from macarons before baking for 15 minutes at 150°C
Petifores vs Macarons: What's the Difference?
Now that we know what petifores and macarons are made of let's compare them side by side:
Texture and Appearance
Petit fours have a soft cake base with a creamy filling and a thin layer of fondant icing on top. They are often decorated with intricate designs, making them look like miniature works of art.
Macarons, on the other hand, have two crispy cookies that sandwich the filling. They are smooth and shiny on top with small "feet" at the bottom due to the way they are baked.
Taste and Flavor
Petit fours can be made in any flavor or combination of flavors you like. They tend to be sweeter than macarons because of their buttercream filling and fondant icing toppings.
Macarons come in various flavors too but they usually have less sugar than petit fours due to their almond flour-based cookies which provide natural sweetness.
The Verdict: Which One is Better?
The answer depends entirely on your personal preference! Do you prefer soft cakes or crispy cookies? Intricate decorations or simple yet elegant designs? Sweetness overload or subtle sweetness?
If you want something that looks pretty on your dessert table for special occasions such as weddings, birthdays or baby showers go for petifores. But if you fancy something trendy that comes in all kinds of colors/flavors go for macarons!
In Conclusion
Petit fours vs Macarons might seem similar at first glance but there are distinct differences between them when it comes down to texture, appearance and taste sensations. Whether you choose petit fours over macarons (or vice versa!), these French delicacies will always bring some charm to your sweet cravings.