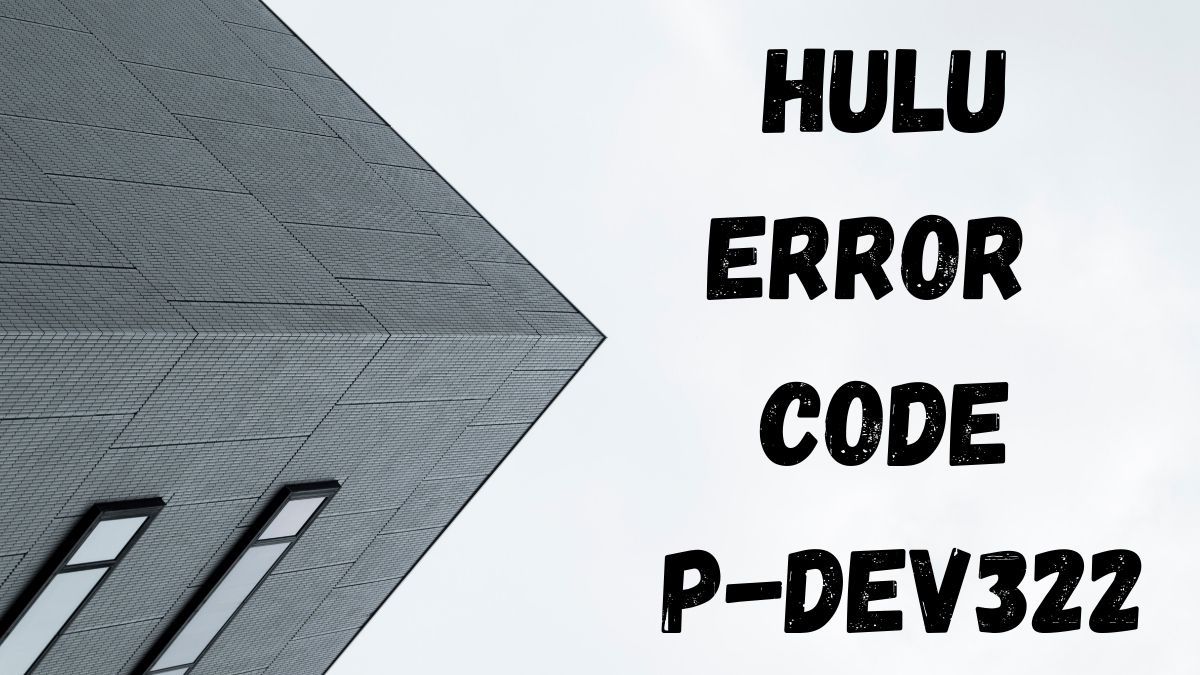 Read Time:
3 Minute, 57 Second
The Hulu p-dev320 error code is one of hundreds of error codes and messages that can happen when streaming Hulu content. This error can happen when you're trying to watch movies, TV shows, or even live events through Hulu With Live TV.
What does the Hulu error code p-dev320 mean?
Any computer that runs the Hulu application, including the Hulu video player in your web browser, can get the p-dev320 error as well as the related p-dev318 or p-dev322 error codes. It is usually a problem with a network or link. Errors with Hulu playback can also be caused by an old app or a problem with Hulu itself.
When this happens, you usually see a message that looks like this:
It's hard for us to play this.
Turning your device off for a minute and then trying again might help.
Hulu Error Code: P-DEV320
You will often see:
Hulu Error Code: P-DEV318
Hulu Error Code: P-DEV322
Why Does Hulu Error Code P-DEV320 and Codes Like It Happen?
The Hulu Error Code p-dev320 means that there is a problem between your Hulu app or Hulu web player and the Hulu servers. It could be because of a problem with your internet connection, an old app on your computer, or a problem with Hulu itself.
Codes like p-dev318 and p-dev322 can also be caused by similar problems, but most of the time these errors are caused by problems on Hulu's end.
How to Fix the P-DEV320 Hulu Error Code?
Follow these steps to get rid of this error code. If Hulu still doesn't work when you're done, it's likely that Hulu will have to fix the problem. You can contact Hulu's customer service for more information, but hopefully a fix is already in the works.
Solution 1:
Look to see if Hulu has a fail. The majority of users will experience an outage.
Solution 2:
Try another device. It's possible that you only need to switch to a different device that's compatible with Hulu. For example, if you watched it on your computer or your Nintendo Switch, check to see if it works on your phone.
Solution 3:
Update your Hulu app to the latest version. If you have an older version of your app, this could cause the p-dev320 error code, especially if Hulu works on some devices but not on others.
Solution 4:
Get rid of your cache and data. Even if your app is up to date, it might have some bad data. In that case, clearing the Hulu app cache and local data might be able to fix the problem.
Follow these steps to clear cache:
For Android: Go to Settings > Apps > See all apps > Storage and cache > Clear storage, and then Clear cache.
For iOS: Go to settings > General > Storage > Hulu, and then delete and uninstall the app. You should reinstall it from the app store now.
For the Fire TV: Go to Settings > Apps > Manage Installed Apps > Hulu > Clear Cache > Clear Data.
If you use the Hulu web player, you can clear your browser's cache and data, so if there are any problems, it's clear.
Solution 6:
Check out other ways to stream. Use the same system that gives you the p-dev320 error to try other streaming services, like Netflix. If another service doesn't work and error codes are generated, that means your system has a problem with how it connects to the outside world. You might need to update or restart your computer or fix your Internet connection.
Solution 7:
Try Hulu with a different internet connection, like your phone. If Hulu works on one Internet connection but not on the other, the problem is with your main Internet connection.
Solution 8:
Check to see if you can get online. Check to see if your user is using other software to stream. The Hulu Error Code p-dev320 error code can happen if your computer has trouble talking to other devices.
Solution 9:
Check how fast your internet is. You can do this on your phone with Hulu, which has different tips for making your Internet faster. If it doesn't have the right rate, it could cause the problem. Talk to your Internet service provider to find out how fast you can talk.
Solution 10:
Restart your device and the hardware in your local network. Most problems with connectivity can be fixed by restarting both the computer and the network hardware.
If Hulu still doesn't work after you've tried all of the above, contact Hulu to let them know about the problem or to ask for more help.