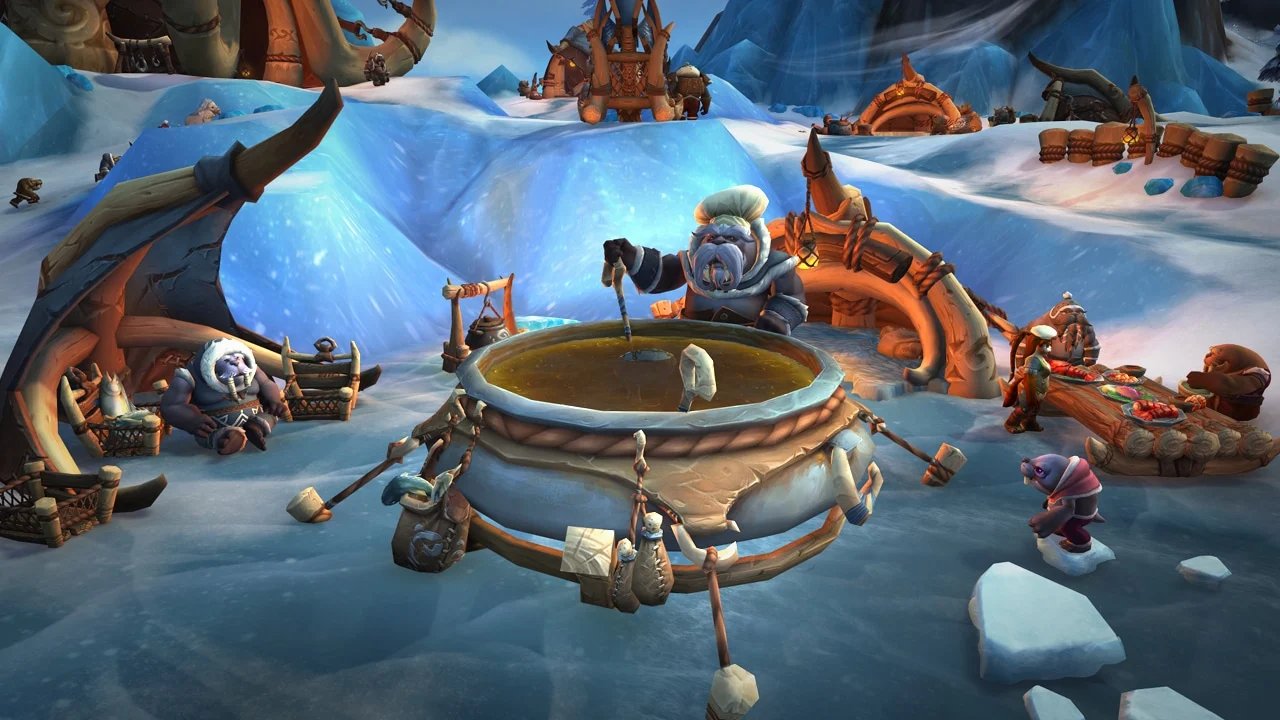 Read Time:
3 Minute, 26 Second
With the latest World of Warcraft expansion, Dragonflight, there are a few new world events, such as the Iskaara Community Feasts. You don't have to take part in these world events, but if you want to make friends with the new groups in the Dragon Isles, you will have to.
In Iskaara, Community Feasts happen every 3 hours and 30 minutes. You'll get a warning if you're in the area 15 minutes before the event. But how do you get to Community Feasts in World of Warcraft: Dragonflight, and what do they entail?
How to join World of Warcraft's Community Feasts: Dragonflight
When you're grinding reputation for the Iskaara Tuskaar in World of Warcraft: Dragonflight, you're going to run out of quests at some point. Community Feasts are important if you want to grow as much as possible in the area. It's a pretty easy event, which makes it one of the best ways to get known in the zone.
You won't be able to start doing this until you have Renown 3 with the Iskaara Tuskaar. Once you've earned 2500 Reputation in an area, you'll hit Renown 1. This will help you earn more respect from the faction. So, all you have to do is go to the Tuskaar village and do quests for them.
It will take a while to reach Renown 3, so just keep working on the main story until that happens. Once you reach that level, this event will be available for your main character and any other characters you play in World of Warcraft: Dragonflight.
The event takes place in Iskaara in the Azure Span, and all you have to do is talk to Chef Big Nook in the village when the event is happening. Chef Big Nook will give you tasks to do when it starts to make his soup taste better.
You get 25 Iskaar Reputation for each of these tasks, so it's best to do as many of them as you can. But you should also pick up the weekly quest right next to the soup. Pleeqi has a quest called "Community Feast," which requires you to do five tasks related to the feast. It doesn't matter which ones you do, as long as you do five.
You'll get 500 Iskaara Reputation and the very important Supply-Laden Soup Pot if you do that. This gives you a bunch of cool items that players won't want to miss out on.
Community Feast quest rewards
1-3 Artifacts from the Dragon Isles and Sacred Tuskaar Totem
1 piece of gear that gets better as you level up (up to 382)
1-3 Primal Chaos
1 Passing Renascence
Dragon Isles Cooking Ingredients of Various Types
It also has a chance of dropping the Recipe: Gral's Revenge, which is one of the Grand Banquets of the Kalu'ak. You won't always get the recipe, so you'll have to be lucky.
You can eat the soup to get the Spirit of Sharing buff when you finish the Community Feast. When you deal a killing blow in World of Warcraft: Dragonflight, this buff gives you temporary Versatility and heals you. The buff is better the higher the rating of the soup. If you get the soup to Legendary, Bisquius, a rare creature, will appear. You can only loot this mob once a day, since it has a daily lockout.
It can drop useful ingredients for cooks and will give you the achievement Leftovers' Revenge if you kill it. This also gives the player a new look for staff weapons, Big Kinook's Spare Ladle.
This is a very easy event to take part in, but it may be hard to figure out when it will happen. When it's happening, a horn will show up on your mini-map. Some mods can also be downloaded to help with this. Here, NA users can find a Weak Aura mod that will help them find the feast.
With this in mind, you can easily hop over to Iskaara on the Dragon Isles to join this fun World of Warcraft: Dragonflight event and help make a delicious soup!